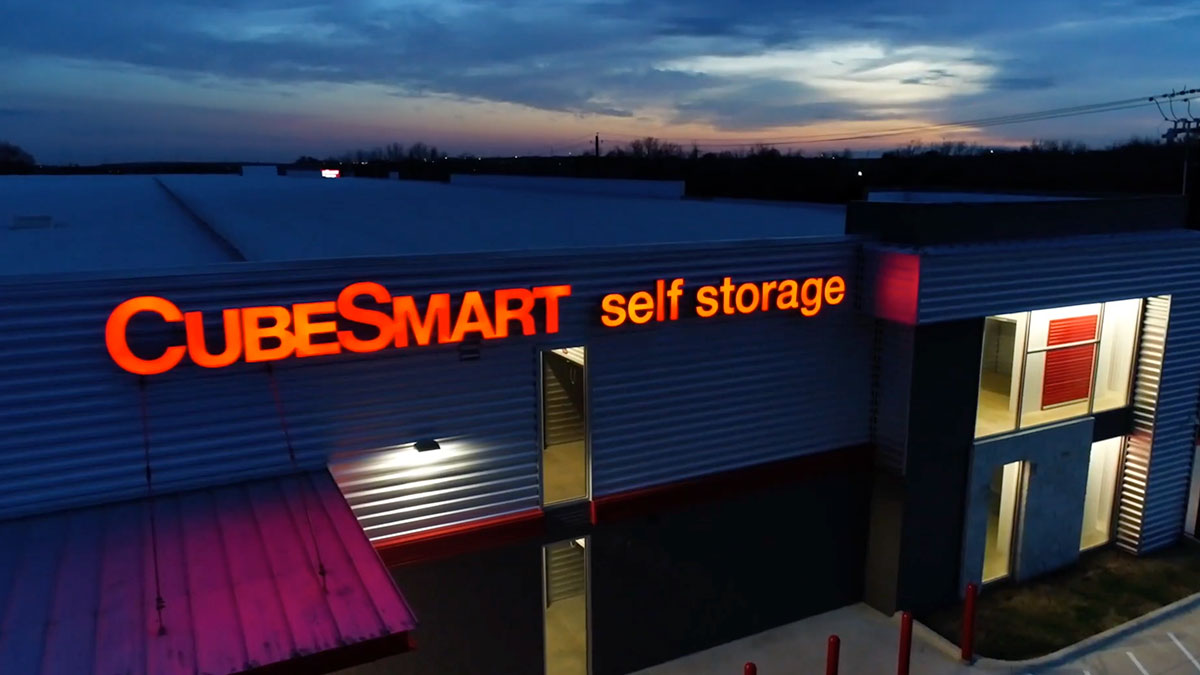 Pylon Sign and Building Signs for National Storage Chain for Austin, TX Location
This site required two very large branded signs to help with identification. A large pylon freestanding
sign and a LED illuminated channel letter wall sign. These signs are very common for storage facilities.
The first sign was the 7 ft tall by 14 ft wide LED illuminated cabinet sign welded to a 30 ft tall pole.
Engineering is required for this type of signage. We drilled a 12 ft deep hole and placed the steel pole in
the hole then set with concrete. After days of cure time we then came back and installed the
illuminated cabinet sign. The sign can be seen for several blocks away. As you can see in the video, we
have large polycarbonate faces installed in the cabinet with translucent graphics applied to the faces.
The second part of the project was the large LED illuminated channel letters that were mounted to a
metal raceway. This sign is for the main business branding. The faces are computer router cut and the
metal around the letters are computer bent to form the letter. Then the metal is welded into place and
the acrylic faces are fastened to the metal letters. Then the production team fastens the letters to the
metal raceway in which all the electrical wiring is housed for the letters. The team then used our sign
installation trucks to hoist sign and fasten to the building as seen the in video.
Enjoy the drone assisted video and music for this very large sign project in Austin, Tx.
For more information on large company branding projects or custom fabrication of any type of signs for
your business then please call us or email us today. We are your Sign Solution Company.